TSA6000-Dual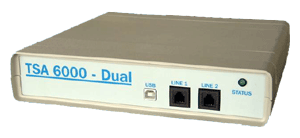 A Caller ID and Telephone signal collection and analysis system.
The TSA6000-Dual provides complete analysis of two line telephone signals at once, including caller ID protocols, Wireline SMS, ADSI, DLC, DTMF, power ringing, single frequency interference noise, call progress tones, noise and more.
With it's full speed USB interface, there is little delay between viewing and analyzing captures made with the unit. With it's smaller design and it's simple interface it's no wonder why more customers are choosing the TSA6000-Dual to capture multiple lines and debug their most sofisticated analog line problems.
TSA6000-Dual is FCC, CSA C/US and CE certified.
Visit the TSA6000 website for more information. You can view example files captured with a TSA 6000, download demonstration software and see a complete listing of the TSA6000-Dual's many features.